Russians begin Panic-Buying Frenzy as Costs Explode
2022-03-18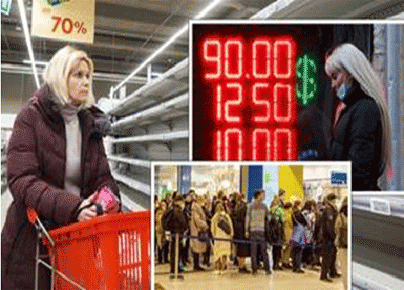 A financial crash looms in Russia as sanctions lead to soaring prices, sending people into panic-buying mode.
The cost of products from medicine to electronic devices has shot up because of the West's response to Vladimir Putin's invasion of Ukraine. Goods whose prices were capped and are reportedly not anymore are driving Russians to stock up in fear they will get even more expensive as the war continues.
Drastic changes in imported goods are anticipated. According to the state statistics service, the average price for new cars made by foreign manufacturers was 16 per cent higher last week than in February.
According to analysts, food products are the least likely to be impacted by Putin's conflict with the West.
Since 2014, after the annexation of Crime, Russia restricted imports of some fresh products from Europe in retaliation for sanctions imposed over the seizure.
This led to a boost in national agricultural production, meaning the country's biggest supermarkets stock a relatively large share of local goods instead of imported ones.
Yet, the cost of products such as sugar, bananas and tomatoes has climbed more than 15 per cent since February.
The current price of a kg of bananas in the supermarkets is around 104 rubles, the equivalent this week of 1 USD.
On Wednesday, in his most clear acknowledgement of the economic harm Western sanctions were doing on Russia, Putin said: "I understand that rising prices are seriously hitting people's incomes.
"Therefore, in the near future, we will decide to increase all social benefits."
Speaking at a meeting about providing support to Russian regions via video link, he said this would include raising pensions and salaries and state payouts to the disadvantaged.
He tried to reassure the regions there would be no large-scale shortage of goods, arguing the situation would make the nation less reliant on the West. In the long run, he admitted: "Of course, the new reality will require profound structural changes to our economy.
"I will not conceal that they will be difficult. They will lead to a temporary rise in inflation and unemployment. Our task is to minimize such risks."
The Kremlin has set up a hotline for complaints about unfair price rises.
But the cost-of-living crisis seems complicated to avoid as the ruble continues to plunge in value.