Colombia Continues in the Attempt to Contain and Prevent TR4
2022-02-18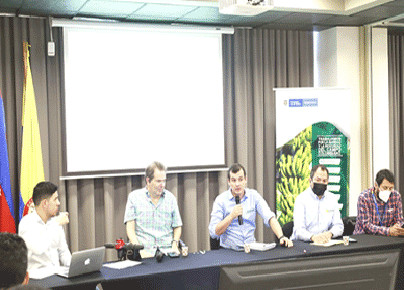 At first, Unified Command Post - PMU of 2022, held in Santa Marta, were presented the progress of actions and the fulfilment of commitments and the activities being carried out to contain the dispersion of TR4 in the department of Magdalena. The protocols are based on the experience obtained managing the Fusarium in La Guajira. The conditions of current conditions of the disease in the entire country were also analyzed.
The meeting was chaired by the Deputy Minister of Agricultural Affairs, Juan Gonzalo Botero Botero. They, in addition to highlighting the commitment and teamwork that the public and private sectors have been carrying out to protect the national banana industry, authorized through an investment agreement for a new community washing and disinfection centre for the department of Magdalena, an essential strategy for the prevention and containment of Fusarium TR4.
The general manager (e) of the ICA, Juan Fernando Roa, reiterated that contributing to the phytosanitary protection of plantain and banana crops in the country and avoiding the damage caused by Fusarium TR4 is necessary the commitment and responsibility of all actors in the chain.
The executive president of ASBAMA, José Francisco Zúñiga Cotes, highlighted the importance of the conference, the participation and commitment of the actors for compliance and monitoring of all control measures and progress for containment and exclusion of FOC TR4 in the Caribbean region. He highlighted that there had been a 14% increase in exports despite the fungus in 2021. They continue to work together on strategic issues like the Fusarium Law that will be presented to the Congress of the Republic. More projects to continue working on the containment of TR4 and the increase in the resources available for the agricultural insurance subsidy will benefit more producers in the region.