Peru Increases Disinfection of Containers for Banana Export
2022-01-21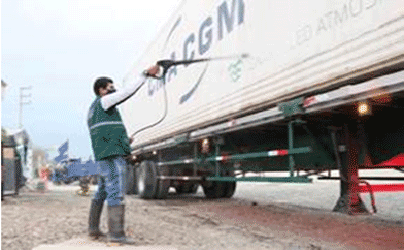 This preventive measure is carried out in Peru at the disinfection stations installed in the town center of Jíbito, in Sullana, and at the entrance to the province of Paita; in compliance with international regulations, to prevent the spread of the Fusarium TR4 pest.
SENASA's technical staff fumigates the outside of cargo vehicles, mainly the tires, to reduce the risk of the fungus being transferred. As is known, the mobilization of contaminated soil is considered an important means of dispersion of the pest, so disinfecting tires is an essential biosecurity measure.
Once the disinfection process is completed, the container operators receive a certificate as a guarantee that they passed the control and can enter the port to complete the export process.
The Piura region has six verification posts installed in producing areas of Querecotillo, Salitral, Miguel Checa and Tambogrande. In these, the vehicles that enter and leave the plots are inspected, to avoid the mobilization of plantain and banana vegetative material without authorization; and the population is made aware of the importance of biosecurity measures to prevent the spread of the pest.
The Fusarium TR4 is concentrated in some sectors of the province of Sullana, because of the phytosanitary measures deployed by SENASA, which have managed to prevent its entry to other producing areas of the region and the country.
Through Headquarters Resolution No. 0048 – 2021 – MIDAGRI – SENASA, a phytosanitary emergency was declared throughout the national territory due to the presence of the pest Fusarium oxysporum f. sp. cubense Race 4 Tropical, the most destructive disease of Musaceae.