Panama Ports Pass 8m teu Milestone in 2021
2022-01-21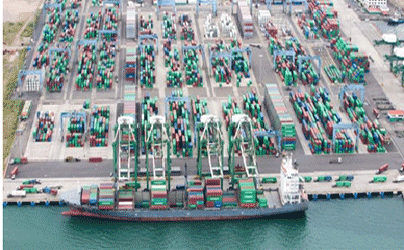 Panamanian ports have posted record growth and cargo volume in 2021, reaching 8.62m teu and an increase of 11.5% compared to 7.73m teu the year before.
It was also the first time Panama passed the 8m teu Milestone.
Various terminals registered double-digit growth, the highest, 47.5%, at Evergreen's Colon Container Terminal (CCT) with 1.05m teu, a growth not seen in many years. Between 2002 and 2007, the terminal had experienced similar annual growth rates, CCT President Stephen Shafer said.
CCT's higher throughput has come because of new service calls from MSC. "It started as an ad hoc situation earlier in the year, but a number of those calls have become regularly scheduled calls," added Shaffer. "Services have made the difference."
Bocas Fruit, a terminal specialising in banana exports, saw volumes increasing by 23% to 144,520 teu at Balboa, administrated by Hutchison's Panama Ports Company, increased volumes by 19.4% to 2.33m teu.
"We have worked hard to get other business regionally in 2021 and handle significant volumes of containers and more cars. Grow our general and bulk cargo business, as well as better, optimise our property development," explained Jared Zerbe, GM of Panama Ports. "We have had a very good overall stability for the past two years, and we believe we have minimised the impacts related to the Covid-19 virus."
Manzanillo International Terminal (MIT) 's volumes increased by 5.6% to 2.81m teu.
"The good figures are the result of increased move count in some services, some extra-loader calls to take care of overflows and not necessarily the addition of new services. While some trade lanes' compositions have changed, that is not the general trend," commented MIT GM Stacy Hatfield. "One important factor in Panama's favour has been the un-interrupted provision of port services including stevedoring, ship husbandry and inter-modal work. Panama's support of crew changes has also assisted ship owners and operators with their vessel management."
PSA-International Panama grew by 1.9% to 1.22m teu, almost with 2020. "As far as next year is concerned, the outlook seems to indicate we will not be out of the bushes yet. Congestion, 'Just in Case' and the Union negotiations in the US West Coast are big questions marks which will have an important effect on volumes," forecasts Alessandro Cassinelli, head of PSA-Panama.
This year has seen many changes, mainly in the supply chain and logistics, coupled with the congestion of the US ports. "Dwell time of transhipment units has spiked at the beginning of the year having a negative impact on the operations. The lack of ships has also impacted when extra calls sweeping the long staying cargo were not available," he said.
On the Atlantic side, administrated by Hutchison's Panama Port Company, Cristobal registered a slight decrease of 2.6% to 1.04m teu.