Colombians Ask the EU a Fair Price for Latin American Bananas
2022-01-21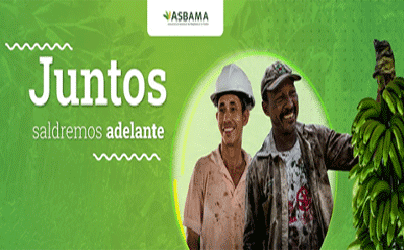 Asbama, the Association of banana growers from Magdalena, La Guajira, and Cesar in Colombia, endorses and supports the call made by the Minister of Agriculture, Rodolfo Zea, within the framework of the Latin American Ministerial Summit of the banana producing countries. The minister had asked the European Union to recognize the cost of Latin American bananas' production given the efforts these countries make to comply with environmental certifications and quality seals.
"Asbama asked the European Union to review in detail the request made so that a fair price for bananas is recognized. It is imperative to recognize the efforts and commitment of the producers to be able to deliver fruit with the highest quality standards that also complies with all national and international regulations," said José Francisco Zúñiga Cotes, Executive President of ASBAMA.
The call adds to the requests made by banana producers and exporters from Ecuador, Colombia, Guatemala, Honduras, the Dominican Republic, and Costa Rica at the Madrid Fruit Attraction exhibition in October 2021. The producers requested a shared responsibility of the actors in the banana sector to alleviate the pressure from supermarket chains, to reduce the price of the fruit in the negotiations. Faced with this situation, the Executive President of Asbama explained: "The European market is ignoring factors such as the increase in the prices of inputs; the new Maximum Residue Limits (MRL) of the destination markets that generate significant losses in production; the additional costs involved in preventing Fusarium TR4 and containing Covid."
In addition to this, in the case of Colombia, producers make additional efforts to guarantee security in the face of constant attempts by criminal gangs related to drug trafficking to contaminate fruit containers to send drugs to international markets.
"In the case of Magdalena and La Guajira, even the price of bananas for local consumption has been affected, this increase is related not only to the high production costs, but also to the effects of the weather that in the month of October more than 1500 hectares suffered and which have affected production volumes," concluded Zúñiga Cotes.