ONE to Equip Container Fleet with 'Smart' Technology
2023-02-24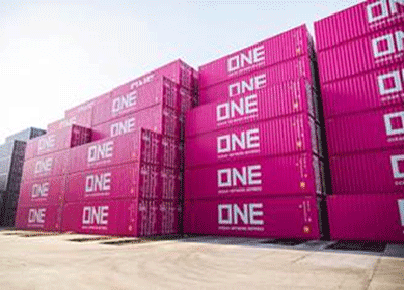 Ocean Network Express (ONE), the world's seventh-largest shipping line, has announced plans to equip its container fleet with "smart" technology.
ONE has partnered with Sony Network Communications Europe to develop and integrate the technology.
The intelligent container solution will help to give ONE greater insight into their container fleet by boosting visibility into container movements. Customers can also access live updates throughout a shipment's journey.
"As one of the largest container carriers in the world, this collaboration brings together ONE's extensive cargo shipping experience with Sony's expertise in the development and innovation of world-class sensing and connectivity technologies," ONE said in a statement.
"This is a future where we have access to the insights we need to offer our customers a higher quality of service to forge a new standard of process excellence," said Hiroki Tsujii, Managing Director, Product & Network at Ocean Network Express. "The development of this smart container solution will combine the very best from experts in our respective fields. Our joint mission will aim to push the limits of what we are capable of with innovative logistics technologies."
Singapore-based ONE was formed in 2017 through the combination of the container shipping businesses of Japanese shipping lines Kawasaki Kisen Kaisha ("K" LINE), Mitsui O.S.K. Lines (MOL) and Nippon Yusen Kaisha (NYK). The company currently ranks as the world's seventh-largest container line, with a fleet of approximately 1.51 million TEUs and more than 205 vessels.
"We are honoured to collaborate with ONE and are dedicated to creating a solution that can help carriers take their global operations to the next level," says Erik Lund, Head of Tracking at Sony Network Communications Europe. "The real-time insights gained across ONE's fleet will allow them to optimize their shipping business further and, in doing so, improve customer service. We look forward to working together and creating the future of logistics."
The container shipping industry's use of "smart" containers is expected to explode in the coming years as operators and cargo owners seek to increase visibility into cargo movements.
Industry analyst Drewry predicts that the use of "telematics enabled" container equipment is expected to account for approximately 25% of the global box fleet by 2026, up from just 3.6% at the end of 2021.
Last year, German container line Hapag-Lloyd announced plans to become the first container shipping company in the world to equip its entire dry box fleet—representing approximately 3 million TEUs—with smart devices by the end of this year. Hapag-Lloyd first introduced real-time monitoring of its approximately 100,000-unit reefer container fleet in 2019.