Ecuador: Port of Guayaquil First in Banana Exports in 2022
2023-01-27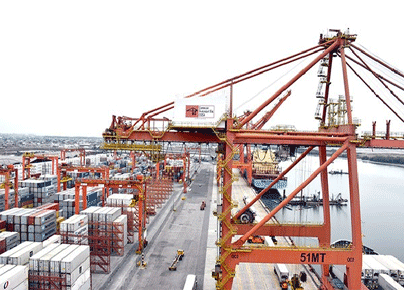 From the 354.6 million boxes of bananas exported between January and December 2022 from Ecuador, 64.64% were exported from the port of Guayaquil.
According to data provided by the Association of Banana Exporters of Ecuador (Aebe), the port became Ecuador's main banana export point.
In 2021, 262.25 million boxes of bananas were exported from the Andean country to international markets from the port of Guayaquil, and in 2022 a total of 229.20 million boxes were exported, representing a 12.6% drop.
Puerto Bolívar was in second position with 23.62% of the boxes sent to international markets, a positive variation of 0.29% compared to what happened in 2021.
The port of Posorja was in third place with a share of 11.75% of the total export of 7.87 million additional boxes of bananas, with a growth of 23.28% compared to 2021. For December 2022, accumulated exports were 354.60 million boxes of bananas. In 2021 there were 379.54 million boxes exported, a drop of 6.57%.
In 2020, the monthly average for box shipments was 32.2 million, while in 2021, the monthly average was 31.63 million, or -1.76%.
In 2022 the monthly average of exported boxes was 29.55 million, around -6.57%.