Citronex is Developing a Business in Romania with Tomato Investments
2023-02-06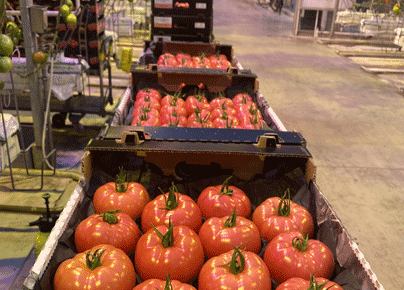 The Polish company Citronex, one of the largest importers and distributors of bananas in Europe, is developing their activities in Romania. The investment of a 50Ha greenhouse for tomato production was confirmed on January 17th by local authorities in Dumbrăveni, Sibiu County.
"The investment will be made in several stages. The first 10 ha of a greenhouse will cost approximately 25 million euros and generate 120 jobs. The Dumbrăveni greenhouse will be the largest in Romania and would mainly supply the domestic market, but other markets around us are also under consideration," – says Emil Dârloșan, the mayor of Dumbrăveni.
The region's revitalization and investments are highly appreciated not only by the local community. Petre Daea - Minister of Agriculture, who was attending meetings with polish investors, is delighted with the new tomato project.
"I am delighted because tomato activity abandoned in Dumbrăveni many years ago is being resumed - congratulations to everyone. The expectations are reasonable for locals and investors, and we are waiting for the materialization. This kind of investment gives us the certainty that we will have a good domestic product at right time. Let's do what is necessary for the country every day and in every place," -says the Minister concerning glasshouses equipped with lighting and heating for winter production season.
The family-owned company is already in TOP3, the largest tomato producer in Europe. In Poland, Citronex has more than 80 ha of similar glasshouses for their disposal.
With new investments in Romania, they will already reach 50.000 tons of annual production.
Citronex has been successfully developing business in Romania since 2018, offering premium bananas to the largest supermarket chains. The ripening centres located in Timisoara and Bucharest are the most extensive facilities of this type in the country. The daughter company, Yellow Fresh Fruits, sells more than 100 truckloads of bananas every week in Romania. Citronex also has two ripening centres in Poland and one in Hungary, with a total ripening capacity of half a million cartons per week, making them the most extensive independent ripener in Europe.
The first phase of the 10Ha construction of greenhouses in Dumbrăveni is planned to be finished by the end of 2024.