CARB Claims Ocean-Going Vessel Rules On Track Amid Industry Pushback
2022-12-08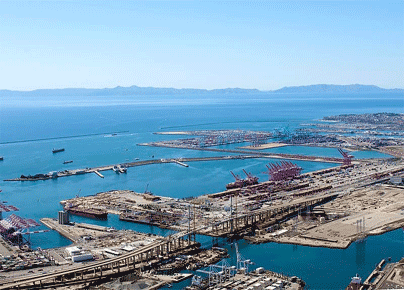 California air officials are claiming that sweeping new rules to reduce pollution from ocean-going vessels (OGVs) at berth are on track for implementation and enforcement, despite ongoing industry complaints that key elements are not in place and equipment needed to electrify ship power at port is not available to enable compliance.
"While [California Air Resources Board (CARB)] staff note that there are challenges facing the shipping industry in complying with the upcoming emissions reductions deadlines for the At Berth Regulation, there are no new significant technological feasibility or timeline concerns brought to CARB staff's attention while drafting this Report that are not resolvable within the boundaries of the current Regulation," board officials state in a Dec. 1 report, "Interim Evaluation Report -- Control Measure For Ocean-Going Vessels At Berth."
Further, "CARB staff are confident that the Regulation as it is written accommodates the concerns shared by regulated entities as part of this Report, and that regulated entities should be able to comply by the required emissions reductions deadlines or otherwise qualify for the compliance flexibilities already built into the Regulation in the event that there is a delay in equipment installation."
The report is "tentatively scheduled" to be presented to CARB members in April, according to a CARB staffer. In addition, CARB staff plans to host a workshop next month to discuss the report with "interested stakeholders and the public," the source says.
The amended regulation, which CARB adopted in 2020, generally requires tougher emission controls for various types of vessels, including container, reefer and cruise vessels; includes additional vessel types such as "roll-on/roll-off" (ro-ro) and tankers; includes new ports and terminals; allows for shared responsibilities among vessel owners, terminal operators and port officials; streamlines compliance determinations; and contains safeguards to address situations where reductions may be uncertain.
Vessel owners must use a CARB-approved emissions control strategy at berth and maintain opacity standards; terminal operators must ensure that a CARB-approved emissions control strategy is available; port officials must ensure the necessary infrastructure exists on port property to reduce emissions; and third-party operators must ensure that technology is CARB-approved and certified emission control levels are met. Many of the emission cuts will come from vessels connecting to electrified "shore power."
For mitigating "uncontrolled emissions at berth in limited qualifying circumstances," the regulation also sets up a remediation fund that regulated entities must pay into. "Funds received must be invested in projects in the communities impacted by the uncontrolled emissions."
Problems Ignored
Industry groups representing shippers, ports and other businesses required to comply with the rule argue that board staff are ignoring major problems that will make compliance virtually impossible, and that the interim evaluation report is misleading.
"It's extremely frustrating because [CARB] sort of dismisses [problems] out of hand without a real explanation of a number of issues raised" in recent industry comment letters, says an industry source. "We identify specific issues in terms of ability to be prepared for some of the new implementation dates, including a need for a standard to know what equipment to install."
While CARB claims specific standards are not necessary for operators to purchase the necessary equipment, industries assert that manufacturers demand it before orders are placed, the source says. Vendors are also telling CARB that they cannot deliver necessary equipment by some of the regulation's compliance deadlines, according to the source.
In addition, utilities are telling operators at the ports of Los Angeles and Long Beach that they can no longer commit to providing new electrical infrastructure service to the ports within two years on new orders, and that it will "take much longer" than that, the source says. CARB's current general response to this issue is, "'we're sure they can work through these issues,'" the source asserts.
A spokesman for the Port of Los Angeles said officials there are "still reviewing the CARB Interim Assessment and we are unable to comment. Any comments we make would be sent to CARB and become part of their public record on the issue."
The industry source adds that the remediation fund still has not been set up by CARB, meaning that beginning Jan. 1 when some of the rules take effect, certain operators will not have a way to comply with a requirement that vessels be connected to electrified shore power within two hours of docking. The source calls the remediation fund an "absolutely critical element" of the new rules.
In terms of enforcement, CARB has not yet received a federal preemption waiver under the Clean Air Act from EPA, and only submitted a waiver request in September, according to the source. This is "creating a great deal of regulatory uncertainty -- having this [amended] rule replace the existing rule without it being enforceable."
The source adds that industry representatives were also surprised to see in the new evaluation report that CARB staff plan to "prioritize exploration of measures to achieve additional reductions from OGVs while in-transit, maneuvering, and at anchor in California waters."
"There has been no discussion from CARB staff on what they're thinking" about new regulatory or incentive measures that may be pursued in this regard, the industry source says. "That nugget in the report . . . was a complete surprise to us."
Shipping industry representatives have previously urged CARB to work with EPA and the International Maritime Organization to advance stricter rules on OGVs that cover the entire country to help maintain a level playing field among ports and shippers.
The CARB staffer and a spokesman did not provide comment about the industry claims and complaints by press time. -- Curt Barry (cbarry@iwpnews.com)