Plátano de Canarias Suffers the Consequences of High Temperatures
2021-08-27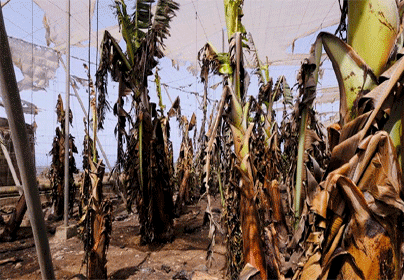 A recent heatwave in the Canary Islands and the strong gusts of wind have affected agriculture, including the plantations of Plátano de Canarias.
Agroseguro indicated that, due to the intensity of winds exceeding 90 km / h, on occasions, damages have already been claimed in almost 580 hectares distributed in about 2,300 plots. This phenomenon has affected others as well.
The island of La Palma, where fires unleashed recently but remitted afterwards, has been the one that has suffered the most from the consequences of this phenomenon, with winds that blew in a southeast-southwest direction and very low relative humidity that fueled the fire.
The same crops have also suffered heatstroke damage due to the high temperatures, mainly the banana, with almost 125 hectares damaged and about 450 plots.
The experts are beginning to make the first visits to the affected plots, so, for optimal appraisal planning, farmers must send the claim reports as soon as they find damage to their crops.
The Cabildo de Tenerife, through the public agrobiotechnology company Cultesa, guarantees the replacement of the plantations affected on the island of La Palma by the adverse weather conditions and the fire suffered in the municipalities of El Paso and Los Llanos de Aridane.
Currently, the last reserved plants are being delivered in Tenerife, and the remaining plant can satisfy the farmers' demand of La Palma.
Cultesa reports that the cultivars reserved for plantations between now and the end of summer are Gruesa Palmera, Brier, Palmerita Tomasa and Criolla. These same cultivars can be prepared for winter plantings or for replanting. Thus, 8,000 cultivars of Gruesa Palmera are available to withdraw, and by the end of September, there will be 7,000 of Palmerita Tomasa, 3,000 of Criolla, 20,000 of Brier and 20,000 of Gruesa Palmera.
The entity points out that the Cupalma, Europlátano, Coville, Prosperidad, Banaguna, Eden, Volcán, Playa Blanca and Teneguía palm cooperatives have contacted them. Still, they have not yet specified any amount because they are waiting for the insurance valuations.